I'm not sure if it was CD technology or the rise of pure heathanism that killed vinyl Christian music. I haven't shopped this genre for a while, although I know there is some great music there, but I do know you won't find these unholy albums anywhere except possibly in sister Mary Katherine's estate sale. If Christian music had the equivelant of a Kill Rock Stars label, these beauties would be on it. Thank the Lord for these indie gospels.


The Braillettes "Our Hearts Keep Singing"
I can't count the number of things I've done to gain access to Hell but making fun of blind women isn't one of them...until now. Although ultimate humiliation is brought upon themselves for calling their trio The Braillettes. In a time before video how is it that three blind women singing could be considered inspirational...on a record! "Blind ladies can sing!" Unfortunately in this case, those with sight are the ones who suffer.


The Addicts "The Addicts Sing"
Watch the scary floating addict heads! Behold the trippy pink letters! One can only imagine the inevitible testimonials that came with this album. If these guys had kicked the heroin needle, I'm wondering what temptations awaited them while touring the Souther Baptist church circuit.

The Handless Organist "Truly A Miracle of God"
For the Love of God! Bitch has no hands! But flawless Eight to the bar! I can't believe the PR machine that billed her as the Handless Organist...is there a PC way of saying handless?


The Sego Brothers & Naomi "Jesus is a Soul Man"
I'm an ass man myself, but soul's are cool too.


Teen Challenge Addicts Choir
Another back alley offering for your Christian music collection. Addicts were apparently the rage one year. You know how it goes, for every Green Day, there is a Blink 182. In this case, the ante is upped and you get a whole choir of junkies for your listening pleasure. I'd still taken them over the Polyphonic Spree, at least The Addicts admit to being strung out. Freaky image of a guy shooting up on the cover...over the bible!


Rhythm-Aires "I'll Never Be Afraid"
This one I would actually buy, it has that Rilo Kiley/Arcade Fire thing going for it. The Rhythm-Aires appear to embody the elite white establishment. You see, they are all safe and cozy on the other side of the country club wall or possibly in Aspen while the Ghetto burns.


Gertrude Behanna "God Isn't Dead!"
But you will start to wonder after listening to this alcoholic in librarian clothes. Is that what happens to you after you sober up? You lose all fashion sense? I love the stylized bottles, Gertrude was into some seriously fancy hooch!


Little Evelyn "The Glory of God"
I love little Evelyn. I love her little chair. I love her little purple satin dress. I love the retarted typesetting of this album cover. Wonderful little album.


Gail & Ezra "It's a Happy Day"
Inexpliccable redundancy as the album is credited as "Gail & Ezra with Gail Wenos & Ezra",double billing...how 'bout that! Not necessarily a Christian album, but would you give it a second thought lined up with the rest of this crap? I chose this because of Ezra holding an ICEE cup. Aaaah, the goodness of ICEE's.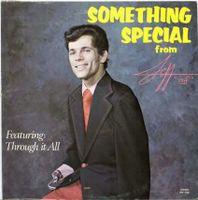 Jeff "Something Special"
Something Special indeed, like herpes? Guy may be the nicest dude in the world, maybe even has an uplifting story to tell, but there is no way this creep is getting near my daughter!! Should point out that this is the album with the hit single "Through it all." Jeff would like to thank Sears Portrait Studio.


The Louvin Brothers "Satan is Real"
Feel the heat! The Louvin Brothers are back as Hell's favorite lounge singers. Let them entertain you in their own brand of slick white suit suaveness. Note that The Hives have nothing on these two.


I can't say enough about this album.


Tammy Faye "Run Toward the Roar"
What list of nutty Christian music would be complete without Tammy Faye. Almost too ironic to make fun of her, this album clearly represents Tammy in her kitschy prime.


Mike Crain "God's Power"
Mike Crain, the Karatist Preacher, will rip apart 10 hymnals with his bare hands! Nothing gets God's message across than ancient Asian martial arts!


David Ingles "Satan Has Been Paralyzed"T
his just in!


Freddie Gage "All My Friends Are Dead"
Life's a fucking bitch man. This has to be the most emo Christian album of all.


This Is Your Funeral - If You Are A Christian
On second thought...WTF? I'm sure this album just flew off the shelves. And you thought it was sad that no one came to your lame Petra listneing parties! This would have made a perfect title for a Pantera album.


Jim & Tammy Faye & Their Friends "Oops! There Comes A Smile"
Oops! You paid $2.98 of your hard earned allowance for this loveable tale from the Jim and Tammy Faye empire. Smiles appear to be treated like farts on this album. The Warner Brothers are I'm sure pleased to see Petunia Pig go blonde for this one.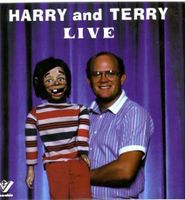 Harry and Terry "Live"
The Christian puppet craze continues with Harry and Terry. I would say one of the less successful puppet acts working Vacation Bible School in the Eighties. If most of these albums have a message you can't tell me that wrestling your homosexual demons with the use of a puppet isn't one of them. This guy remindes me of someone you would see in the background in a Golden Girls episode.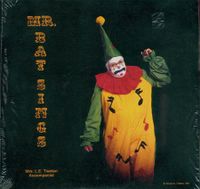 Mr. Bat "Mr. Bat Sings"
Everyone's two favorite subjects together in one album: Clowns and Church. Everyone knows that clowns are borderline scary, especially lecherous old men clowns. Top that with a name like Mr. Bat and you have a sure fire way of scaring religion into the kiddies. This is exactly the kind of person you need to start profiling before you find twelve bodies in thier shed.


Rev. Rhyme "According to Rap"
Kids love rap...and Jesus.